07 Jul

Procedure Spotlight: Discography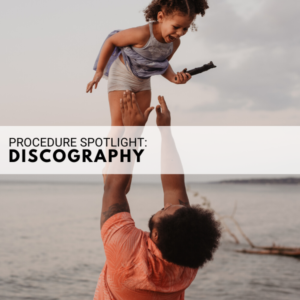 Back pain is always frustrating. It can be even worse when you don't know the cause. Fortunately, there's an interventional procedure that can help diagnose the cause of persistent, severe back pain. Learn more about discography.
WHAT IS DISCOGRAPHY? 
Discography is an interventional diagnostic imaging test to diagnose the cause of back pain. During a discogram, a board-certified physician can determine whether a specific intervertebral disc may be the source of back pain. During a normal x-ray, this is not always visible. The contrast from a discogram allows physicians to see the vertebral disc clearly.
WHO IS A CANDIDATE?
Typically, patients who have disabling pain are candidates for discography. Usually, the pain is chronic and does not respond to conventional treatment. Discograms can help diagnose pain in the lower back, groin, hip and/or legs. Patients must not have had any reactions to contrast dyes or agents in the past.
WHAT ARE THE BENEFITS?
Discography is a diagnostic procedure. Because of this, the main benefits are determining the cause of pain. Your provider can recommend a personalized treatment plan that will work for you once they identify the root cause of your pain. This can include the location for a needed surgical procedure or injection.
WHAT TO EXPECT DURING A DISCOGRAM?
The procedure usually takes less than an hour to perform. Because discography is a diagnostic procedure, the process may temporarily reproduce patients' normal pain. During the procedure, a physician uses x-ray guidance (fluroscopy) to place a needle in one or more of the spinal discs. Once all of the needles are in place, discs are "pressurized" one at a time. Pressurization happens by injecting small amounts of contrast dye into the center of the disc. After pressurizing each level, your physician takes pictures with a fluoroscope, and removes the needles. This helps physicians see the spine.
After injecting the contrast, your provider will ask how you are feeling. They may give you options to describe your pain. For example, you may respond with I feel: nothing, pressure or pain. If you experiences pain from the injection, your physician will ask whether your pain is familiar or unfamiliar. Asking these questions helps the physician pinpoint the cause and location of your pain. If the sensation is familiar, it is likely what causes your normal chronic pain.
WHAT TO EXPECT AFTER DISCOGRAPHY?
A radiologist will analyze the images and send a signed report to the patient's primary care or referring physician. Follow-up examinations may be necessary. After the procedure, you may experience soreness from the needle punctures that lasts several days. Acetaminophen or ibuprofen may be used to ease any soreness. Cold compresses and bed rest may also help reduce pain. For more information or to schedule your pain consultation, please call 615.941.8538. 
PATIENT EDUCATION VIDEO
---

For more information on The Pain Management Group, please visit thepainmanagementgroup.com or schedule an appointment at one of our locations throughout Middle Tennessee.
We are committed to providing holistic, individualized care and vow to treat each patient with compassion and respect, never turning anyone away. Our physicians are fellowship-trained pain specialists who utilize a combination of interventional procedures and medication management services to tailor a personalized care plan for each patient's long-term pain relief.