14 Jan

The Pain Management Group Welcomes Dr. Tran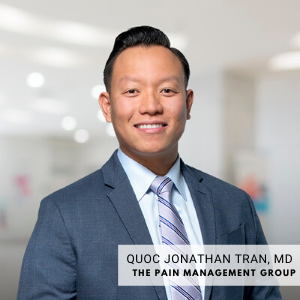 The Pain Management Group is proud to welcome Quoc Jonathan Tran, MD, to its growing group of pain management specialists. Dr. Quoc Jonathan Tran is a physical medicine, rehabilitation and pain management doctor in Nashville, Tennessee. A native of Vancouver, British Columbia in Canada, Dr. Tran attended Houston Baptist University for his undergraduate premedical studies. He then attended The University of Texas Southwestern Medical School in Dallas for his medical education. He completed his preliminary year in internal medicine at the University of Alabama, Birmingham in Montgomery. Dr. Tran then completed his residency in physical medicine and rehabilitation at Carolinas Rehabilitation in Charlotte, North Carolina. Following residency, he worked in Knoxville, Tennessee, as an attending physician at Patricia Neal Rehabilitation before completing a NASS-recognized fellowship in interventional spine and musculoskeletal medicine at Alabama Orthopedic, Spine and Sports.
Dr. Tran is ABPM board-eligible in pain medicine and ABPMR board-certified in physical medicine and rehabilitation. His residency class was the first to establish a musculoskeletal ultrasound curriculum, and he incorporates ultrasound-guided procedures into his healthcare practice. Dr. Tran performs kyphoplasty and sacroplasty for vertebral compression and sacral fractures; Superion and MILD for spinal stenosis; Relievant Intracept for discogenic and vertebrogenic pain; spinal cord stimulation, nerve conduction and EMG; botox, platelet rich plasma and prolotherapy; discography and therapeutic intradiscal injections; joint injections, epidurals, nerve blocks and radiofrequency ablation. Dr. Tran is a member of the American Society of Interventional Pain Physicians, American Academy of Physical Medicine and Rehabilitation, American Association of Neuromuscular and Electrodiagnostic Medicine, North American Spine Society and Spine Intervention Society.
When not in the office, Dr. Tran enjoys traveling, especially back home to Vancouver where many of his family reside. He married his wife Brittany, a family nurse practitioner, in October 2018; they live in Nashville with their cat and two dogs. Dr. Tran enjoys playing the piano and different sports, particularly volleyball. He and his wife enjoy golf, though they are still learning. Dr. Tran is excited to be in a city with professional hockey and football teams and enjoys discovering new restaurants and exploring Nashville with his wife and dogs.
---
For more information on The Pain Management Group, please visit thepainmanagementgroup.com or schedule an appointment at one of our locations throughout Middle Tennessee.
We are committed to providing individualized care and vow to treat each patient with compassion and respect, never turning anyone away. Our physicians are fellowship-trained pain specialists who utilize a combination of interventional procedures and medication management services to tailor a personalized care plan for each patient's long-term pain relief.