26 Nov

A Winning Mindset for Holiday Nutrition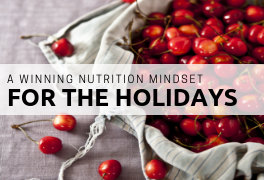 The holiday season seems to sneak up on us every year. Every year we stress over the holiday season because of the extra weight gain we may experience, and for chronic pain patients, maintaining a healthy weight is crucial for symptom management. Here are a few tips to tackle your nutrition and wellness this holiday season:
Eat breakfast. During holiday parties or family gatherings there is so much food! If you're gathering for a meal with family, don't wait until meal time to eat. This can result in consuming extra calories and feeling overly-full or uncomfortable after a meal. It's important to eat a balanced breakfast and lunch on holidays where food is front and center.
Exercise or move for at least 30 minutes. Remember to exercise the day of a big meal. The benefits of exercise are endless—no matter the activity or how long you exercise. A friendly football game while a turkey is cooking or going for a stroll around the neighborhood with family after dinner can help you maintain health and wellness during the holidays.
Don't shame yourself for one slip up. If you slipped up in, acknowledge that it happened and move on. No need to dwell on it! Trying to change behaviors is difficult—Don't let a slip up throw you off course.
Enjoy Dessert. Don't deny yourself as this could lead to other unhealthy habit, but at the same time be mindful of portion sizes. It's okay to try a bite of everything but have smaller pieces to help control caloric intake.
Take Left Overs Home. Don't be afraid to come to the party with empty containers. Thanksgiving leftovers are some of the best parts of the meal and can help you save on groceries for that week.
When we've worked so hard all year long to lose or keep weight off, it can be discouraging to have weight fluctuation during the holidays. But this cycle doesn't have to continue—all it takes is determination and a plan to win the holidays this year!
---
For more information on The Pain Management Group, please visit thepainmanagementgroup.com or schedule an appointment at one of our locations throughout Middle Tennessee.
We are committed to providing individualized care and vow to treat each patient with compassion and respect, never turning anyone away. Our physicians are fellowship-trained pain specialists who utilize a combination of interventional procedures and medication management services to tailor a personalized care plan for each patient's long-term pain relief.