28 Jun

Grocery Shopping on a Budget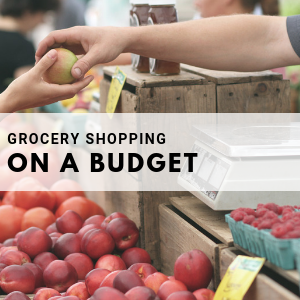 We are all on one, at least we try to be–a grocery budget! At the beginning of the month, we might sit down and write out a plan. Then the month goes on and my beautifully designed budget is blown out of the water. This skill takes discipline, self-control, saying "no" to the kids and also to yourself. But, if you follow the tips below it will give you guidelines to staying on a budget and getting in those foods that are higher in nutrition!  Keep reading to learn how you can begin grocery shopping on a budget.
Don't shop when you're hungry
Studies have shown that people who shop hungry purchase 143% more high-calorie foods than those who go to the store with a list and a full tummy. This is a big budget-blower. Shopping hungry can make you buy things that "look or sound" good when you're hungry but were not originally on your list. Make sure to eat at least three meals a day; if you're in a rush grab a protein shake on the way out the door or drink a glass of low-fat milk to hold you over until your next meal. Remember: it's planning that will help keep you on track.  
Take a list
Knowing what you will be preparing, how much time it is going to take to prepare and what you can freeze for later will help you stay on budget and keep you sane during the week. This can help prevent those last-minute runs for pizza or fast food. Use websites like Pinterest or Facebook groups to help you get creative with your meals. Use the grocery store's sale booklet to help you slim down your budget by planning your meals around the items that are already cheaper. Also, plan to have a fruit and/or vegetable at each meal – these foods help bulk up the meal, are high in nutrients and help save the budget. Cookbooks like Good and Cheap, which provides meal tips for only $4 a day, can help you stay on track! The important part is to think a head and have a plan.  
Use cash instead of cards
Having a credit card to bail you out at the checkout line makes it easier to go over you weekly grocery budget. If your weekly budget for groceries is $60, then take that amount of cash to the store. When you've spent it all – you're done! You can also use your smartphone or a standard calculator to help you keep on track through the aisles. 
Don't be fooled by crafty point-of-sale signs 
Seeing a big "sale" sign in the aisle does not always mean it's a good deal. If it's a product you don't normally purchase, or you know your family will not eat before it expires, you'll be wasting dollars on something you don't need. Try not to let the shiny signs and advertising distract you. Instead, stick to your list. 
Shop price per unit
Price per unit is a breakdown of how much a product costs per ounce, pound, serving, etc. To find this number locate the price skew under the food. There will be a small box right next to the price or skew that will say something like 59.8 cents per ounce – this is telling you how much each unit of an item cost per serving. Use this number to compare buying in bulk to buying individual items. However, be careful because buying in bulk may not always be cheaper. Buying a large container of yogurt knowing you are not going to eat the whole thing before it goes bad could end up costing you more money than buying individual containers.  
Buy and stock up on canned and frozen items when they are on sale 
Canned and frozen items keep longer on the shelves and in the freezer. Additionally, they are just as nutritious as fresh produce and can help keep your grocery budget in check. Ingredients to avoid in these areas: added salt, sauces, cheese and heavy syrup (although if you can't avoid it, just drain it off). Remember, buying things you won't eat "just because they are on sale" never works. With canned or frozen food, it's also easy to forget you bought the same exact item a month ago. Keeping inventory of what you have on hand before you go to the store will be a big money saver, too. You won't have 20 cans of canned green beans that will never get eaten.
Eat out of the pantry
Make it a habit once a month or every two weeks to pull everything out of the back of the fridge and pantry and get creative. Using things before they expire or go bad can help save money in the long run and prevent food waste. Make it fun for kids by letting them decide what's for dinner that night. Have everything out on the counter and let them plan, cook and serve dinner. It may not make complete sense or be a complete meal that night, but at least you will be using everything you have so that you don't over stock or let things go bad! 
How will you grocery shop on a budget?
Staying or creating a grocery budget can be difficult, and many think you can't eat healthy on a budget. However, with these tips and tricks, you can maintain your health goals and save your wallet. Grocery shopping on a budget might be easier than you think. Remember that planning is key—if you make a plan and stick to it, your body and budget will thank you.
---
For more information on The Pain Management Group, please visit thepainmanagementgroup.com or schedule an appointment at one of our locations throughout Middle Tennessee.
We are committed to providing holistic, individualized care and vow to treat each patient with compassion and respect, never turning anyone away. Our physicians are fellowship-trained pain specialists who utilize a combination of interventional procedures and medication management services to tailor a personalized care plan for each patient's long-term pain relief.