28 Apr

Health Benefits of Walnuts and Ways to Add Them to Your Diet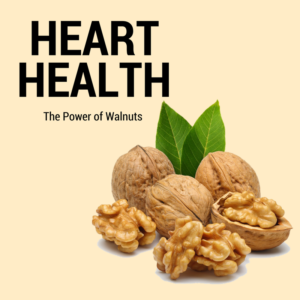 Our ingredient of the month for May is walnuts. With heart healthy and anti-inflammatory properties, walnuts pack a powerhouse of nutritional benefits. Not only are they an excellent source of plant-basted protein, they taste great too! Walnuts have a nutty, savory taste profile, perfect in any dish. Check out these tips for incorporating more walnuts into your diet, as well the health benefits of this versatile nut that should be a pantry staple for all.
Health Benefits of Walnuts
Heart Health: Walnuts are a heart-healthy food, certified through the American Heart Association's Heart-Check program (1). Eating walnuts affects various heart health markers such as; LDL ("bad") and HDL ("good") cholesterol, blood pressure, inflammation, and plaque formation.
Cancer: Walnuts fight against cancer causing cells
Aging: Healthy aging and cognitive function
Diabetes: Carbohydrate free, high protein snack.
Weight Management: As part of a healthy diet, the consumption of walnuts can play a role in weight management.
Highest content in Alpha-Linoleic Acid (ALA): A plant-based omega-3 essential fatty acid. A once-ounce serving of walnuts provides 2.5 grams of ALA
Nutrition Information
5 grams per ounce of alpha-linoleic Acid (ALA).
In 1-ounce of Walnuts (about ¼ cup):

18 Grams of fat – of that 18 grams, 13 grams are polyunsaturated "heart healthy fats"
0 Grams: cholesterol, sodium, added sugar
4 Grams Total Carbohydrates
4 Grams of Protein
2 Grams of Dietary fiber
Also, a good source of Magnesium (44mg/oz) and phosphorus (98mg/oz) – both important mineral's involved in the body's processes
Add More Walnuts to Your Diet
Add crunch and protein to salads, oatmeal, yogurt with fruit, and any vegetable side dish by sprinkling on a handful of toasted or raw walnuts.
Use walnut in sauces by toasting and blending walnuts into a paste to increase protein and add a nutty flavor.
Incorporate walnuts into muffins, banana bread, scones or any baked goods to add crunch.
---
For more information on The Pain Management Group, please visit thepainmanagementgroup.com or schedule an appointment at one of our locations throughout Middle Tennessee.
We are committed to providing individualized care and vow to treat each patient with compassion and respect, never turning anyone away. Our physicians are fellowship-trained pain specialists who utilize a combination of interventional procedures and medication management services to tailor a personalized care plan for each patient's long-term pain relief.