09 Jun

Oats: Why We Love Them and How to Make Them in Your Sleep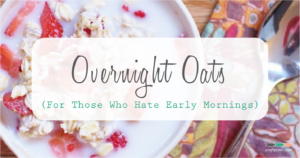 Rolled, whole, Irish, instant or steel cut – oats can have an amazing benefit when part of a balanced diet. Rich in fiber, whole grains and protein, oats will fill you up and keep you full throughout the morning.
As a "quality carbohydrate" or whole grain, they have also been shown to help reduce inflammation. As there is little evidence related to how much of these whole grains are needed to help reduce inflammation in chronic pain, 6, 1 ounce servings of whole grains are still recommended per day.
Click the following link for more information on the connection between diet and inflammation: http://www.eatright.org/resource/health/wellness/preventing-illness/inflammation-and-diet.
Overnight oats recipe
Overnight oats are such a quick and easy time-saver, especially for those mornings with "no time for breakfast". You do all the work at night and while you're sleeping, all the magic happens. Overnight oats also go well with array of fruits and nuts as toppings.
Nutrition Facts
One 1/2 cup (4 ounces) of oatmeal contains 150 calories, 0 milligrams of cholesterol, 2 milligrams of sodium, 27 grams of carbohydrates, 4 grams of fiber and 5 grams protein.
Ingredients
½ cup – ¾ cup of rolled oats.
½ cup – 1 cup low-fat Milk/water/almond or soy milk (depending on which you prefer to use).
TIP: You can add anywhere from ¾ cup – 1 cup of liquid, depending on the consistency you prefer. If you like your oats soupy, use more liquid. If you prefer yours thicker, use less liquid.
Directions
Combine all above ingredients in a 12 oz mason jar or other air tight container (with just enough liquid to cover the top of the oats). Shake to combine and store in the refrigerator overnight.
When ready to eat, place in the microwave to warm or eat cold. After your base is ready, spice it up with add-ins. Look below for some yummy ideas.
Spice it up
Banana & Peanut Butter: add ½ a banana (cut into pieces) and 1 Table spoon of peanut butter to the oatmeal base.
Berry Bonanza: when making your oat meal base, add 1 cup frozen berries. As the berries sit in the refrigerator they will thaw, releasing all their berry goodness into the oatmeal helping to flavor it.
Pumpkin Pie: Add ¼ cup pumpkin puree (make sure NOT to use pumpkin pie filling but 100% pure pumpkin puree.), 1 teaspoon cinnamon, 1 teaspoon allspice and 1 teaspoon of sugar free maple syrup.
To add crunch: Use nuts or granola to add crunch and a boost of Omega -3 fatty acids and fiber.
Chia seeds are high in fiber as well as omega-3 fatty acids, add a tablespoon to the oat base to give a slight nutty flavor. Chia seeds will also thicken as they soak up extra liquid. If your oats get too thick, just add more liquid to thin them out.
Alternative sweeteners: honey, artificial sweeteners, dark chocolate chips, light brown sugar (1 teaspoon), shredded coconut, banana/fruit. There are other ways to sweeten thing instead of using sugar.
Tip: Remember, there are no rules with overnight oats. Find creative ways to use what you have at home. Whether you eat them plain or with a packet of sweet n' low and a banana, oats are a perfect whole grain breakfast to start your morning!
---
For more information on The Pain Management Group, please visit thepainmanagementgroup.com or schedule an appointment at one of our locations throughout Middle Tennessee.
We are committed to providing individualized care and vow to treat each patient with compassion and respect, never turning anyone away. Our physicians are fellowship-trained pain specialists who utilize a combination of interventional procedures and medication management services to tailor a personalized care plan for each patient's long-term pain relief.