02 Jul

Stay Hydrated with Watermelon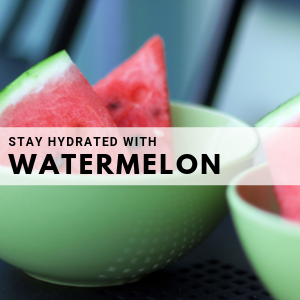 It is no coincidence "water" is found in the word watermelon. This thirst-quenching fruit provides you with fluid, vitamins and electrolytes, which help fight off dehydration. And, it's tasty, too! Try these tasty watermelon recipes to help you stay hydrated this summer.
Watermelon Spears Made-Easy

Begin by slicing your watermelon in half.
Place one half of the watermelon face down on a cutting board and begin cutting 1-2 inch thick slices.
Turn the watermelon 90 degrees and repeat.
You'll have small squares that are easy to grab and eat, like popsicles.
For an added bonus, place a popsicle stick in the rind of each slice, then place in the freezer for 30 minutes for a cold treat on a hot day.
Watermelon Pizza Recipe
Start by cutting the watermelon in half and cut off a slice right down the middle, about 2-3 inches.
Use plain or Greek yogurt as your sauce (flavored or unflavored). Using a spatula, spread the yogurt up to the white part of the watermelon.
Use fresh fruit or nuts as toppings. This is a fun, hands-on activity for kids.
If you crave a little more sweetness, drizzle some honey or sugar-free maple syrup over the finished pizza.
Slice into "pizza wedges" and serve.
Watermelon Ice cubes: 3 Ways
Option 1: Small Cubes
Dice your watermelon into small cubes.
Place in freezer bag and allow to freeze up to 1 hour.
Option 2: Blender Frenzy 
Dice your watermelon into small cubes.
Throw watermelon cubes into a blender and blend until juiced.
Pour juice into ice cube trays.
Place tray in freezer and allow to freeze up to 1 hour.
Option 3: Melon Baller
Use a melon baller and ball out the watermelon.
Place watermelon balls in freezer bag and allow to freeze up to 1 hour.
Whether you use blended watermelon or cubed watermelon, once frozen, the watermelon will chill your drink and flavor your water as it thaws.
Stay Hydrated with Watermelon Recipes This Summer
How will you stay hydrated this summer? Remember, you need to drink water and get good nutrition for a healthy, balanced lifestyle. Nutrition can help manage your chronic pain symptoms and ensure your overall wellness is maintained.
---
For more information on The Pain Management Group, please visit thepainmanagementgroup.com or schedule an appointment at one of our locations throughout Middle Tennessee.
We are committed to providing holistic, individualized care and vow to treat each patient with compassion and respect, never turning anyone away. Our physicians are fellowship-trained pain specialists who utilize a combination of interventional procedures and medication management services to tailor a personalized care plan for each patient's long-term pain relief.