06 Feb

Tips for Family and Friends of Chronic Pain Patients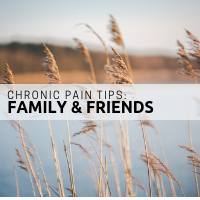 Understanding chronic pain can be difficult, especially if you've never experienced it yourself. It can particularly difficult to adjust to family and friends experiencing chronic pain. You can often end up feeling helpless or sad that loved ones are unable to participate in things they once enjoyed. Having a strong support system is important for chronic pain patients, so here are a few tips for chronic pain friends and family to help adjust to and understand the diagnosis.
Tips for chronic pain family and friends:
Listen. Chronic pain can be difficult to explain but listening to friends and family who experience it can help you better understand and empathize with them. Since chronic pain doesn't affect everyone the same way, it's important to understand how it specifically affects your loved one.
Ask. Chronic pain patients may be afraid to ask for help due to fear of being a burden, the stigma of chronic pain or a number of other reasons. Simple tasks like grocery shopping and cleaning can become difficult with chronic pain symptoms. Asking your loved one if there are tasks you can help with is a good show of support and can help reduce symptom-increasing activities.
Understand. While it can be difficult to understand the effects of chronic pain without experiencing it yourself, try to understand and empathize how chronic pain affects your loved one's life. Stigma around chronic pain is common and many people may think pain is "all in a person's head," but understanding that chronic pain is a real diagnosis with real symptoms is essential for family and friends of chronic pain patients.
Show up. Whether it's showing up physically or just to talk, being there for your friend or family member with chronic pain is important. Having a good support system can help chronic pain patients deal with their symptoms, especially the emotional, social and mental symptoms that occur alongside the physical pain.
If you or a loved one are suffering from chronic pain, visit thepainmanagementgroup.com for more information.[/vc_column_text][/vc_column][/vc_row]
---
For more information on The Pain Management Group, please visit thepainmanagementgroup.com or schedule an appointment at one of our locations throughout Middle Tennessee.
We are committed to providing individualized care and vow to treat each patient with compassion and respect, never turning anyone away. Our physicians are fellowship-trained pain specialists who utilize a combination of interventional procedures and medication management services to tailor a personalized care plan for each patient's long-term pain relief.