19 Nov

How to Avoid Holiday Stress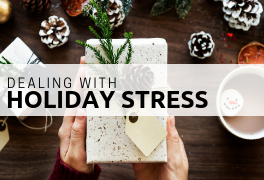 The holidays can be stressful. Between hosting family members, preparing holiday meals, cooking or even just grocery shopping during the holiday season, it's easy to experience stress. Chronic pain can be worsened by stress, so it's important to learn how to ease holiday stress.
Here are a few tips to help you deal avoid and deal with holiday stress:
Take time for yourself. The holidays can be an extremely busy time, and that can easily lead to stress and negative emotions. However, remembering to take time for yourself and practice self-care is an important step in reducing your holiday stress.
Focus on your wellness. It's easy to lose track of your health and wellness during the holidays. Between all the rich foods that are at many holiday feasts and the lack of time for exercise, your nutrition can sometimes feel less important during this time. Be sure to focus on your nutrition and get some exercise in to make sure you feel your best.
Plan your holidays. Whether it means setting aside specific times to shop, cook or creating a financial plan, make sure that you have a plan for the holidays. Creating a plan can help you feel more in control and less stressed during this busy time.
Don't expect perfection. While it's a good idea to set your plan for the holidays, you should also remember that keeping your plans and expectations realistic is important. Remember that your holidays do not have to be perfect to be wonderful.
If you feel overly-stressed, the holidays can become something you dread, but following these tips can help de-stress during the holiday season. Having a joyful and peaceful holiday season is possible and by keeping your stress low, you can avoid excess pain, too.
Sources: https://www.mayoclinic.org/healthy-lifestyle/stress-management/in-depth/stress/art-20047544[/vc_column_text][/vc_column][/vc_row]
---
For more information on The Pain Management Group, please visit thepainmanagementgroup.com or schedule an appointment at one of our locations throughout Middle Tennessee.
We are committed to providing holistic, individualized care and vow to treat each patient with compassion and respect, never turning anyone away. Our physicians are fellowship-trained pain specialists who utilize a combination of interventional procedures and medication management services to tailor a personalized care plan for each patient's long-term pain relief.