13 May

What is Chronic Pain?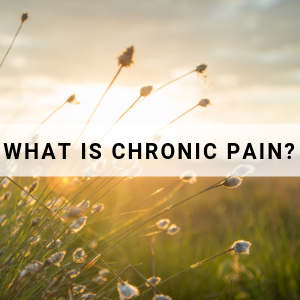 What is chronic pain? This is a question many may find themselves asking after their own diagnosis or the diagnosis of a loved one. We all experience pain at some point. But for some, this pain is persistent.
Chronic pain can last for weeks, months or years. The persistence of pain is the main factor in diagnosis. If you experience chronic pain, you are not alone. According to a 2018 study, more than 20% of Americans suffer from the condition.
What causes chronic pain?
While this isn't true of everyone, it usually follows an illness or injury. For example, someone who experienced a back injury may have prolonged pain that can last weeks, months or years after the initial injury. Other contributors may include conditions like arthritis, fibromyalgia, nerve damage or migraines.
What are the symptoms?
Everyone may experience pain differently. The physical sensation of the pain is bad enough; however, chronic pain can also affect other parts of your body and daily life. Depending on your underlying condition or injury, your pain may affect your daily life more than others. Some common symptoms include:
Trouble sleeping and lack of energy
Limited mobility
Loss of appetite
Mood changes and changes in mental wellness
How can it affect my mental wellness?
Mental wellness is the state of your mind and emotions. When you hurt or feel bad, you may be more likely to experience depression and/or anxiety. Understanding the link between your physical sensations and mental wellbeing is an important step in managing your chronic pain. Therapies like mindfulness can help manage the emotional and psychological effects of chronic pain.
A common misconception of chronic pain is that a patient's pain is "all in their head," and some may feel their doctor does not believe their pain is real if referred to a behavioral health specialist. This hurtful stigma encourages questioning a patient's feelings, thought and emotions, which is harmful both to the individual and others suffering from chronic pain. Understanding that your mental wellness is connected to your body and pain can help combat this stigma. Whether you have had chronic pain for many years, are newly diagnosed or have a loved one with the condition, understanding what it means for daily life is important. While healing the physical sensation is an important aspect of pain management, it's not the only one. Understanding the emotional and psychological side effects are just as necessary to managing your condition.
If you or a loved one are suffering from chronic pain, please call 615-941-8538 to schedule a pain assessment today. If you are having a medical emergency, please call 911.
---
For more information on The Pain Management Group, please visit thepainmanagementgroup.com or schedule an appointment at one of our locations throughout Middle Tennessee.
We are committed to providing individualized care and vow to treat each patient with compassion and respect, never turning anyone away. Our physicians are fellowship-trained pain specialists who utilize a combination of interventional procedures and medication management services to tailor a personalized care plan for each patient's long-term pain relief.