14 Aug

Chia Seeds: The Ancient Superfood

Do you remem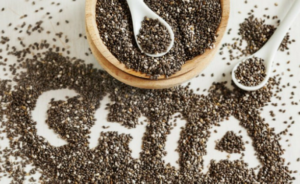 ber Chia Pets, the cute animals that grew fur right before your very eyes? Well, the seeds used to give these cute critters their fur are called chia seeds. Recently, these tiny black and white pods have gained a lot of popularity in the nutritional world.
The ancient superfood
Chia seeds have been around since the time of the Mayan and Aztec cultures. Folklore has it that these cultures used chia, meaning strength, as an energy booster. It's no wonder, since these little seeds pack a wallop of nutrition. In just 2 tablespoons, these seeds contain 10 grams of fiber, 139 calories, 4 grams of protein and 12 grams of carbohydrates (2 tablespoons equaling 1 serving of carbohydrates). Along with their vast amount of nutrition, chia seeds are also high in omega-3 fatty acids and other minerals such as iron, calcium, magnesium and zinc.
Possible health benefits
While there is still little research about chia seeds, researchers have linked them to improvements in cardiovascular health, lower blood glucose, cholesterol, triglycerides and even blood pressure – so why not add them to your next meal?!
Incorporate chia seeds into your diet
Chia seeds have a mild nutty flavor, sure to enhance any dish. They are super absorbent, meaning they soak up any moisture, creating a pudding like texture. For example, adding them to a smoothie will thicken its consistency.
Adding chia seeds to oatmeal or cereal is another easy way to incorporate them into your diet. You can sprinkle 1-2 tablespoons onto practically any dish – or simply, eat them raw. For more ideas on how to add chia seeds into your diet, check out this month's Featured Recipe, Chia Seed Pudding.
For more ideas, visit EatRight.org: http://www.eatright.org/resource/food/vitamins-and-supplements/nutrient-rich-foods/what-are-chia-seeds
---
For more information on The Pain Management Group, please visit thepainmanagementgroup.com or schedule an appointment at one of our locations throughout Middle Tennessee.
We are committed to providing holistic, individualized care and vow to treat each patient with compassion and respect, never turning anyone away. Our physicians are fellowship-trained pain specialists who utilize a combination of interventional procedures and medication management services to tailor a personalized care plan for each patient's long-term pain relief.