14 Aug

The Power of Zinc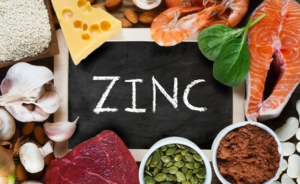 Zinc is considered a trace mineral, but is very important for many of our bodily functions. Along with many of the other nutrients we get from our food, like calcium, vitamin D and vitamin B, zinc is also a necessary mineral we must include in our diet. In fact, daily intake of zinc is important because the body does not store zinc.  The National Institute of Health (NIH) recommends women, aged 19-50+, get about 8 milligrams of zinc per day and that men, aged 19-50+, get about 11 milligrams per day.
Zinc plays many important roles in many different processes and systems in the body. Some of these functions include:
Improving immune support
Helping to prevent diarrhea
Reducing risk of stomach ulcers
DNA synthesis or creation
Promoting cell division
Supporting normal growth during pregnancy, childhood and adolescence
Required for proper sense of taste and smell
Signs and symptoms of zinc deficiency
Not getting enough zinc from diet or supplementation can lead to zinc deficiency. Signs and symptoms of zinc deficiency include: growth retardation, loss of appetite and impaired immune function. More sever forms of deficiency can cause:
Hair loss
Diarrhea
Weight loss
Delayed healing of wounds
Taste abnormalities
Mental lethargy
How can you get your zinc fix?
The most common sources of zinc in foods comes from lean meats, nuts/seeds, poultry, seafood, milk, whole grain products, beans, eggs, kidney beans, oats, chickpeas/peas and spinach. The following are examples of foods that contain zinc.
3 ounces cooked oyster (74mg)
3 ounces of beef chuck roast (7mg)
3-ounce beef patty (5.3mg)
Fortified breakfast cereal ¾ cup serving (3.8mg)
3 ounce pork chop (2.9mg)
Yogurt (1.7mg)
1 packet oatmeal (1.1 mg)
1 cup non-fat/low-fat milk (1mg)
Sources
---
For more information on The Pain Management Group, please visit thepainmanagementgroup.com or schedule an appointment at one of our locations throughout Middle Tennessee.
We are committed to providing holistic, individualized care and vow to treat each patient with compassion and respect, never turning anyone away. Our physicians are fellowship-trained pain specialists who utilize a combination of interventional procedures and medication management services to tailor a personalized care plan for each patient's long-term pain relief.