25 Jun

Tips and Recipes for Healthy Grilling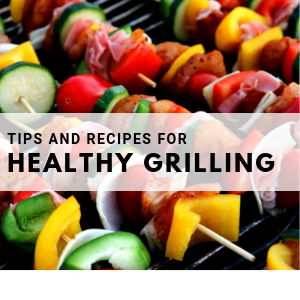 Fire up the grill! Summer is here, and with the warmer weather comes a perfect opportunity to gather outdoors with friends and family. But, don't let this season of potlucks and picnics derail you from achieving your weight loss and pain management goals. Start by learning how to effectively grocery shop on a budget. Then, pick up some grilling tips and tricks. Here are some healthy grilling tips to stay on track and avoid extra fat, calories and sugar this barbecue season.
Tips for a healthy grilling season
Take fruit or vegetable platters instead of traditional grill-out sides that are high in calories and low in nutritional value. You'll be surprised how fast they go!
Ditch the sugar-sweetened beverages and alcohol. Instead, drink plenty of water or sugar-free beverages to stay hydrated in the heat.
Get in the game. Physical activity is not just for the kids. Encourage the whole group to embrace their competitive sides and play a game. Whether it be a game of hoops or volleyball, everyone is sure to have a blast.

Pain management tip: If pain keeps you from joining in on high-impact activities, suggest a light to moderate-impact instead, such as swimming, horseshoes or frisbee.

Enjoy your favorites in moderation. Enjoy small quantities of foods you love that are higher in fat and calories. Just don't over-indulge!
Keep it colorful. When you fill your plate, make sure it has plenty of color from low-calorie fruits, vegetables and whole grains.
Don't go straight for the potato chips. Choose a whole grain chip or cracker without added salt instead.
Eat a little bit at a time. Eat a few smaller portions throughout the event rather than all in one sitting. This will help you to not feel overly full but still allow you to enjoy the spread.
Mind your meats. If the host is serving meats that are higher in calories and saturated fat, like burgers or brats, take a turkey/veggie burger or chicken breast for the grill-master to throw on for you instead.
At a cookout, it can be easy to loose track of how much you've eaten. Whether you're talking with friends and family around a picnic table or playing backyard games, it can be easy to mindlessly eat. Snacks and dips in particular can be easy to over indulge on. If you're in charge of bringing dips and chips, try some of these recipes and tips below to make healthier, lighter dips.
Healthy dip tips
Veggie Dip. Make dips from fresh ingredients, such as guacamole or pico de gallo and try to limit cream-based dips (ranch, queso, sour cream dips, etc.).
Fruit Dip. Substitute sugar-free, low-fat whipped cream for high-calorie fruit dips
Seven-Layer Dip. Pair a seven layer dip (made with layers of refried beans, guacamole, fresh tomatoes, black olives and low-fat sour cream) with whole wheat chips, crackers and/or sliced veggies for dipping. 
Stay healthy this grilling season
Are you ready for barbeque season? Keep on track with your health and pain management goals this summer by following these tips and tricks for a healthy grilling season. For more health-conscious, crowd-pleasing dishes perfect for outdoor gatherings, check out our scrumptious Guilt-Free Grill-Out recipes for Turkey Slider Burgers, Buffalo Chicken Tortilla Rollups and Cowboy Caviar.
---
For more information on The Pain Management Group, please visit thepainmanagementgroup.com or schedule an appointment at one of our locations throughout Middle Tennessee.
We are committed to providing holistic, individualized care and vow to treat each patient with compassion and respect, never turning anyone away. Our physicians are fellowship-trained pain specialists who utilize a combination of interventional procedures and medication management services to tailor a personalized care plan for each patient's long-term pain relief.