15 Apr

Health Benefits of Being Outdoors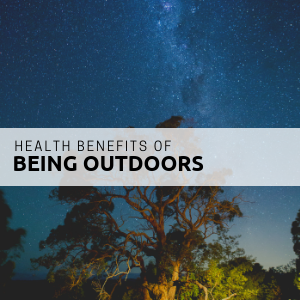 Happy Earth Day! Earth Day is a great day to get outside and explore, but did you know that being outdoors can also improve your overall wellness? We might have heard before that fresh air can do us some good, but how? There are many health benefits associated with getting outdoors.
Whether you simply take a short walk outside, kayak, hike or more, being outdoors can help improve your overall health and wellness. Keep reading for several health benefits of being outdoors.
What are the health benefits of being outdoors?
Being outside can encourage physical activity.
Sitting inside at home or work can limit the amount of physical activity we engage in, limiting our fitness levels. Being outside can help encourage walking, running or other activities that can help boost fitness levels.
Reduce stress by stepping outdoors.
Have you ever noticed you breathe deeper when outside, if you have access to clean, fresh air? Well that sensation of being outdoors and giving yourself a chance to breathe deeply can help reduce your stress levels. One study found that those who spent time in the woods versus the city had significantly lower blood pressure, heart rate and cortisol levels.
Step outside to help anxiety and depression.
It can be incredibly easy for those suffering from depression and anxiety to stay home to try to avoid stressors and interaction with others. However, there is evidence that nature and green spaces can help individuals de-stress, which can help reduce anxiety and depression symptoms.
Reduce inflammation and pain.
For those with chronic pain and disease, inflammation can be a recurring problem. Chronic pain can become worse with increased inflammation, so it's important to help control inflammation through diet and activity. Being outdoors can encourage not only more activity but also help you de-stress, as we've talked about above. Both of these are closely linked to reducing inflammation and can help you manage chronic pain and conditions. If you have access to safe, clean green spaces and are able to enjoy physical activity, being outside can help improve your overall health and wellness. If you don't have access to green spaces, check some of our at-home exercises that can help keep you active.
Sources:
---
For more information on The Pain Management Group, please visit thepainmanagementgroup.com or schedule an appointment at one of our locations throughout Middle Tennessee.
We are committed to providing holistic, individualized care and vow to treat each patient with compassion and respect, never turning anyone away. Our physicians are fellowship-trained pain specialists who utilize a combination of interventional procedures and medication management services to tailor a personalized care plan for each patient's long-term pain relief.