31 Oct

How Stress Affects Health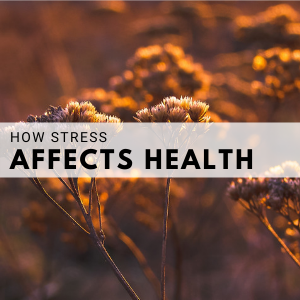 There are many factors in our everyday lives that can create stress. Did you know stress could be one of the causes of weight gain and other health problems? According to the American Psychological Association, stress in America is increasing, with 44% of Americans reporting increased stress levels from 2005-2010. As we encounter stress, our body and overall wellness will experience the negative side effects. This can also leading to worsening chronic pain. Keep reading to learn how stress affects health.
Stress and allostatic load
Side effects of stress are numerous. Conditions and diseases can occur when the body experiences heightened, long-term stress; these include chronic diseases, increased allostatic load and increased stress hormones (cortisol). Allostatic load is one of the most damaging side effects of stress. Allostatic load is the "wear and tear" your body experiences through repeated periods of stress. Experiencing increased allostatic load can lead to decreased functions of the cardiovascular, metabolic and vascular systems, which can cause long-term health problems.
Stress and food
In today's culture, stress around food has amplified. Individuals who experience distress with eating tend to have a higher level of body dissatisfaction, which can lead to the feeling of guilt and shame after eating. Guilt and shame can be consequences of diet restriction and increase psychological distress. The increase of psychological distress can lead to depression, anxiety, low self-esteem or disordered eating. All of these conditions can harm the body and negatively impact health.
Stress and chronic conditions
Over time, each of these factors can lead to chronic inflammation, increase cortisol levels and increase allostatic load and stress. All of this can contribute to several health problems such as: increased blood glucose levels, insulin resistance, inflammation, blood pressure, aging, weight gain, gastrointestinal dysfunction, reduced immune response and vascular damage. In addition, these factors can all make chronic pain worse. Inflammation, in particular, can lead to chronic pain flare-ups and increased symptoms.
How stress affects health
We want to try to prevent stress as much as possible. While occasional stress is common, long-term stress can be harmful. It can increase chronic pain symptoms and make the chronic condition worsen. That's why it's important to talk to your doctor if you have high stress or experience other mental health symptoms. Stress can also be managed by a number of techniques, such as yoga, mindfulness, deep breathing and good sleep.
Source: Weight Management Matters: Weight management DPG newsletter: volume 18:1
---
For more information on The Pain Management Group, please visit thepainmanagementgroup.com or schedule an appointment at one of our locations throughout Middle Tennessee.
We are committed to providing holistic, individualized care and vow to treat each patient with compassion and respect, never turning anyone away. Our physicians are fellowship-trained pain specialists who utilize a combination of interventional procedures and medication management services to tailor a personalized care plan for each patient's long-term pain relief.