12 Jan

Breathing Exercises for Stress Management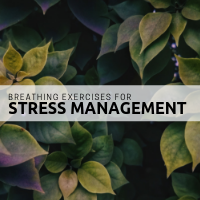 Stress affects everybody. However, for those with chronic pain, stress can be more common and more harmful. In order to manage chronic pain, it's important to also consider the ways stress affects pain symptoms and mental and emotional health. By learning to control stress and reduce the strain on the central nervous system through breathing exercises, some patients experienced reduced chronic pain symptoms. Breathing exercises can be a great way to reduce stress and focus on keeping yourself healthy and well.
Here are a few breathing tips and exercises to help lower stress levels:
Choose a quiet, comfortable place. Choose a location with limited distractions and that you can feel comfortable in, whether you're sitting or lying down. This will help you concentrate on your breath and keep you focused.
Set aside time for your breathing exercises or meditation. Whether it's a couple minutes or 10 minutes, having designated time to practice your breathing and focus on yourself is important.
Practice deep breathing. After settling into your chosen place, practice breathing deeply through the nose. Placing one hand on your belly and the other on your chest can help you breathe deeper and focus on breathing.
Don't let distractions get to you. Hopefully your chosen location has minimal outside distractions, but don't let your mind wandering or worrying get you down. If you begin to think about things that cause you stress, just let you mind go back to focusing on your breath.
Don't force your breathing exercises. Finally, not forcing your breathing exercises is important. When you begin to think of this time for yourself as something else you "have to do," it becomes a chore that can cause stress. So just remember that this is a time you are setting aside for yourself to focus on your health and wellness.
By learning to use deep breathing to calm your nervous system, you can help calm yourself and lessen the everyday stress in your life.[/vc_column_text][/vc_column][/vc_row]
---
For more information on The Pain Management Group, please visit thepainmanagementgroup.com or schedule an appointment at one of our locations throughout Middle Tennessee.
We are committed to providing holistic, individualized care and vow to treat each patient with compassion and respect, never turning anyone away. Our physicians are fellowship-trained pain specialists who utilize a combination of interventional procedures and medication management services to tailor a personalized care plan for each patient's long-term pain relief.