06 Feb

Maintaining Your Goals and Resolutions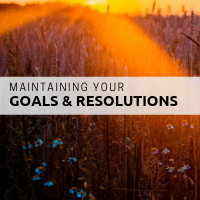 Happy new year! If you have goals and resolutions for 2019, then you might be wondering how to keep up your progress. For many of us, we start the new year with great intentions, but it can be difficult to stick to your resolutions. Below are a few tips to use throughout the year to keep you on track maintaining your goals and resolutions.
Maintaining Goals and Resolutions
Write down your goals. Making sure you have your goals written down is an important step to maintaining your 2019 resolutions and goals. Put your written goals in a place where you can see them easily to keep your motivation up.
Keep track of your progress. Whether it's in a journal, photos or another form of tracking, make sure you are keeping track of your progress. This will help you celebrate when you reach important steps and be more likely to achieve your goals.
Make smaller goals along the way. Creating smaller, specific goals and steps will help you achieve your ultimate goals. By having smaller steps along the way, you can better measure your progress. For more information on how to make SMART goals, check out our latest blog post.
Find support in friends and family. Having others keep you accountable can be a great way to help reach your goals. If you have fitness goals, having a workout partner can also help keep you accountable for your resolutions.
Talk to a professional. A behavioral health specialist can help you create goals and maintain your progress throughout the year. Whether your goals are for better mental or emotional health, or a decrease in stress, a behavioral health specialist can help keep you on track.
Achieving your 2019 goals and resolutions may not always be easy, but with well-written goals, help from others and a good mindset, you can maintain progress throughout the year.
---
For more information on The Pain Management Group, please visit thepainmanagementgroup.com or schedule an appointment at one of our locations throughout Middle Tennessee.
We are committed to providing holistic, individualized care and vow to treat each patient with compassion and respect, never turning anyone away. Our physicians are fellowship-trained pain specialists who utilize a combination of interventional procedures and medication management services to tailor a personalized care plan for each patient's long-term pain relief.