19 Mar

Tips to Reduce Work Stress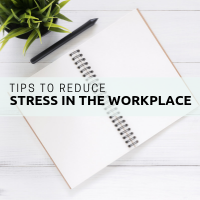 Stress can be a major trigger for chronic pain patients, and work stress can be particularly difficult to manage. Whether you work in an office, factory, home or anywhere in between, we are all affected by work stress. According to the 2018 American Psychological Associations Stress in America Survey, work and money are consistently the top stressors for Americans, with 64% of survey respondents citing these as common sources of stress.
We know that stress can affect the body in many ways, worsening existing conditions, making chronic pain worse and more. So, reducing work stress is essential to keeping your health and wellness in check. Here are some tips to help:
Declutter your space
Have you ever looked around your office or workspace and realize you just have so much unneeded clutter? It's easy to build up paperwork and other items that can cause stress by just glancing at them. Take the time to put away and go through your work area to declutter any unnecessary items that may sources of stress.
Also, in the digital age, digital clutter is increasingly common. Does your desktop have every inch of space covered in files and folders? For some, this system may work, but for many, the digital clutter can be a major stressor. Take the time to organize folders and files in a way that makes sense to you and keeps your work stress down.
Take breaks during work hours
It can be tempting if you are busy to skip a lunch break or eat hurriedly while working. But, it's important to reclaim your break time. If you work in an office, find a space to go to, like a break room, to eat and move away from your desk. For many of us, the temptation to check emails and work while eating is just too great. Also, if you are able get up and walk around throughout the work day, or if you work on your feet, take a few minutes to sit and practice deep breathing.
Changing your scenery and eating healthy, wholesome foods on your break can help you reduce work stress and keep you healthy—physically, emotionally and mentally.
Personalize your area
Workspaces can sometimes feel dull, so personalizing your space is important. Whether it's a few family photos or bringing your own décor, adding some inspiration to your work area can help reduce stress. If you don't have a designate office, keeping personal items near you, like photos in your wallet, can help you stay grounded when stress hits.
Keep boundaries
Boundaries are particularly important in our digital age. Work-life balance is a common phrase. But, what does it mean? If your work relies on email, be sure to set boundaries and time for yourself to "unplug." While it can be easy to fall into the habit of emailing during meals at home or even in bed at night, making sure you have digital boundaries is necessary to keep your work and home life in balance. It can be helpful to let your co-workers know your boundaries, so they can help keep you accountable.
Work stress is something everyone faces at some point. When you stress levels get too high, it can affect other aspects of your life. That's why it's important to reduce work stress as much as possible. Use these tips to help keep your stress in check and maintain your wellness.
Sources:
---
For more information on The Pain Management Group, please visit thepainmanagementgroup.com or schedule an appointment at one of our locations throughout Middle Tennessee.
We are committed to providing holistic, individualized care and vow to treat each patient with compassion and respect, never turning anyone away. Our physicians are fellowship-trained pain specialists who utilize a combination of interventional procedures and medication management services to tailor a personalized care plan for each patient's long-term pain relief.