05 Nov

Seasonal Affective Disorder and Chronic Pain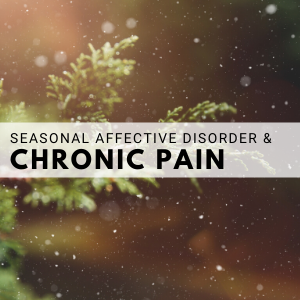 Have you ever heard of the "winter blues?" Chances are you probably have and may have even experienced them yourself. As the weather gets colder and the days get shorter, our mood can change. While "winter blues" are common and affect many people, if you experience uncontrollable mood changes and other related symptoms, you may have a more serious disorder called Seasonal Affective Disorder. You may have also seen this disorder called SAD or sometimes seasonal depression. According to the Academy of Family Physicians, up to
10-20% of Americans report having at least mild SAD,
while about 4-6% report having winter depression, a related condition.
What is Seasonal Affective Disorder?
SAD causes depression in patients, usually beginning in the fall and continuing throughout winter. Although less common, some people may experience spring and summer versions of the disorder, too. The cold weather and seasonal change can bring feelings of loneliness and depression almost daily. It can be easy to brush these feelings off as the "winter blues," but that's not always the case. Seasonal Affective Disorder can bring intense symptoms that drain your energy and affect your health. As we'll see, patients with chronic pain may be particularly prone to SAD.
What's the link between Seasonal Affective Disorder and Chronic Pain?
If you have chronic pain, you probably already understand the ways pain can affect your mental and emotional health. That's why behavioral health care has become increasingly necessary for pain management practices.  According to Harvard Medical School, researches have discovered that pain, anxiety and depression may share some "biological mechanisms." In other words, chronic pain, anxiety and depression are all linked and must be treated together. With increased risk of depression comes increase risk of other related conditions. Because of this, those with chronic pain and depression may be more prone to Seasonal Affective Disorder.
What are risk factors?
While SAD can affect anyone, it is more common in women than men. Additionally, some related conditions may also make people more prone to the condition, such as chronic pain. A few other risk factors include:
Existing depression
Family history of SAD
Sleep disorders
Living in places with little sunlight
What are symptoms?
Seasonal Affective Disorder can have different symptoms for many people and can depend on the time of year it begins. However, below are a few of the most common symptoms associated with cold weather Seasonal Affective Disorder:
Losing interest in activities you once enjoyed
Oversleeping or insomnia
Appetite changes
Weight gain or loss
Low energy or feeling tired
Difficulty concentrating or feeling agitate and sluggish
Feeling hopeless, worthless or guilty
Having frequent thoughts of death or suicide
When should you get help for Season Affective Disorder?
While it's normal to have "down" days, if your feelings are persistent or affecting your daily life, you should reach out to your doctor or mental health professional. Treating underlying depression and sleep disorders are both major factors in addressing SAD. Photo light therapy and other treatments may also be available. Don't let the prevalence of "winter blues" stop you from seeking help for your Seasonal Affective Disorder. Remember, occasional "winter blues" are normal, but persistent, energy-draining depression throughout the fall and winter are not.
Sources: https://www.mayoclinic.org/diseases-conditions/seasonal-affective-disorder/symptoms-causes/syc-20364651
---
For more information on The Pain Management Group, please visit thepainmanagementgroup.com or schedule an appointment at one of our locations throughout Middle Tennessee.
We are committed to providing holistic, individualized care and vow to treat each patient with compassion and respect, never turning anyone away. Our physicians are fellowship-trained pain specialists who utilize a combination of interventional procedures and medication management services to tailor a personalized care plan for each patient's long-term pain relief.