17 Sep

How to Stay Active in Warm Weather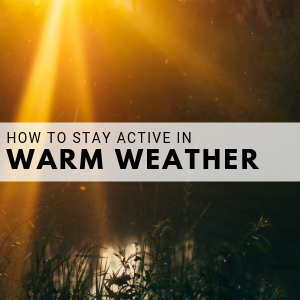 We know it's hard to believe, but it's still summer. Pumpkin spice may be back, but cooler fall weather has not arrived. That means we still have some sweltering days ahead of us. It can be difficult to stay active and safe in the heat, but getting proper exercise is essential to overall health and wellness. Use these tips and tricks and learn how to stay active in warm weather!
Why being active matters
Exercising can be great fun. It can be a chance to connect with friends and family, test yourself and learn something new. However, for some, it's not always fun. Especially for people with chronic pain, the prospect of any exercise might seem daunting. Pain and general unease might turn you away from exercise, but it's important to remember that exercise doesn't have to be a chore.
Try doing something you love for exercise, like taking a walk with a friend, stretching or even cleaning the house. The average adult American should get 150 minutes of moderate-intensity aerobic exercise per week, according to the American Heart Association. Exercising doesn't always have to mean packing up for the gym. Getting outdoors can help you exercise, and choosing a friend or partner to keep you accountable can help ensure you're active throughout the week.
Tips to stay active during warm weather
Now that you know the importance of staying active, it's important to know how to stay safe in hot weather. When temperatures soar during the summer months, it can be difficult to stay cool and safe when exercising outdoors. Even a brief walk outside may have you sweating, but you can use these tips to beat the heat and still get your weekly exercise in.
Stay hydrated. Drinking plenty of water can not only reduce inflammation but will also keep you hydrated and cool during hot weather.
Avoid the hottest part of the day. Afternoon sun can be a scorcher. Try to limit your time outside during the hottest part of the day, usually from about noon-4pm.
Try indoor exercises. You don't have to go outside to get great exercise. Try yoga indoors or other great at-home exercises if you want to beat the heat.
Wear sunscreen. Be sure to always wear sunscreen to avoid burning outside. A water resistant, broad-spectrum SPF 30 is the minimum suggested by the American Academy of Dermatology.
Dress for the sun. Be sure that you're wearing weather-appropriate attire when outdoors. Light weight, cool material will be the best to wear in extreme heat.
Know your limits. Knowing your limits means listening to your body and your doctor's orders. If you are on any activity restriction, it's important to follow it. Likewise, if you feel like you're overheating or pushing yourself too hard, then back off some. If you feel like you're in immediate danger of overheating or experiencing symptoms of heat stroke, call 911.
Beat the heat
How will you beat the heat to stay active as we wind down summer? Remember, if you have chronic pain, it's always best to consult your doctor before you start any type of exercise regiment. They can help you create a plan to stay active, safe and healthy.
---
For more information on The Pain Management Group, please visit thepainmanagementgroup.com or schedule an appointment at one of our locations throughout Middle Tennessee.
We are committed to providing holistic, individualized care and vow to treat each patient with compassion and respect, never turning anyone away. Our physicians are fellowship-trained pain specialists who utilize a combination of interventional procedures and medication management services to tailor a personalized care plan for each patient's long-term pain relief.