01 Oct

How to Avoid Stress This Fall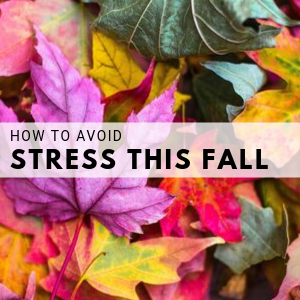 It's officially fall! We may not have fall weather yet, but that won't stop us from celebrating the season. Hay rides, pumpkin patches, falling leaves and more are right around the corner. With the seasons changing, you might experience some change, too. Whether that's good or bad change, it can lead to stress. Learn how to avoid stress this fall and enjoy the season by reading more.
How to avoid stress
Stress is difficult to avoid. Everyone experiences it once in a while, and it's a normal part of life. However, if stress begins to affect your daily life, it might be time to do something about it. Remember, for those with chronic pain, stress can make pain symptoms worse and cause other health issues, such as high blood pressure. Try these tips to reduce stress going into fall:
Have a fall clean out
We know spring cleaning is more common, but that doesn't mean a good autumn cleaning can't help reduce your stress. As the weather changes, maybe you need to clean out your closet and make room for warmer clothes. Having clutter and cramped spaces around you can sometimes make stress worse, so a good old fashioned clean-out may be just what you need. Maybe cleaning out your work space is what you need to reduce your work stress. Keep your work and living space tidy and clean for a stress free environment.
Adjust your routine
Your daily routine may need to change as the seasons change. For example, maybe adjusting the time you go to sleep can help you as it begins to get dark earlier. Or, maybe you want to enjoy the milder weather with a morning cup of coffee outside that wasn't possible during the summer months. Whatever change you need, be sure to think about how you can make your routine productive and stress-free. Being productive doesn't always mean getting everything done, but it does mean focusing on your health and wellness daily.
Try something new
With a new season comes new opportunities. Why not use this time to try something new? Have you been wanting to start a journal? Or, have you always wanted to try a fall recipe and never gotten around to it? Now's the time. Maybe you want to try some new recipes because you're working to eat healthier. Or, you wan to start reading or exercising more. Trying something new is a great way to help relieve stress by taking your mind off stress-triggering things in your daily life.
Be sure to relax
Now that you've cleaned out your space, created a new routine and tried something new, remember to relax. Unwind with some yoga, deep breathing or sit and watch the leaves fall to calm your central nervous system and reduce stress. Try these tips to help you relax and lessen your stress.
To sum it up
This fall, try to reduce stress with these tips. Clean out your space, adjust your routine, try something new and don't forget to relax so that you can make the most of the changing seasons. 
---
For more information on The Pain Management Group, please visit thepainmanagementgroup.com or schedule an appointment at one of our locations throughout Middle Tennessee.
We are committed to providing holistic, individualized care and vow to treat each patient with compassion and respect, never turning anyone away. Our physicians are fellowship-trained pain specialists who utilize a combination of interventional procedures and medication management services to tailor a personalized care plan for each patient's long-term pain relief.