27 Nov

Mindfulness and Thankfulness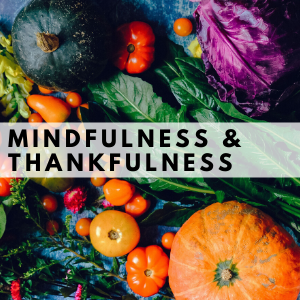 On the blog, we've talked a lot about mindfulness. Mindfulness is the practice of being present in life. This means living in a way that promotes overall health by taking care of every aspect of health, including thoughts and emotions. Living mindfully can help you create ways to respond to situations in life and is particularly helpful for those with chronic pain, who can benefit from reduced stress and increased wellness. During this time of Thanksgiving, mindfulness can be practiced in a number of ways, but perhaps most importantly is through gratitude. Keep reading to learn more about the links between mindfulness and thankfulness.
What does it mean to be thankful?
Gratitude or thankfulness does not mean your circumstances are perfect. In fact, gratitude may be most useful during a time of hardship or struggle. We can't always control what happens in life, and understanding that is an important first step in living mindfully. However, we can learn to be grateful and thankful for life, both the good and the bad. Gratitude is not a cure-all, and it shouldn't be thought of as one. For example, mental health conditions cannot be "cured" by gratitude; depression and anxiety are disorders that require cooperation and treatment between you and a behavioral health specialist. But gratitude can help re-orient our understand of life's ups and downs.
Gratitude: the state of being grateful : THANKFULNESS
How to practice mindfulness and thankfulness
Mindfulness and thankfulness are connected. Both encourage thoughtfulness and aim to improve overall quality of life through understanding of sense of self. There are numerous ways to practice both of these. Here are a few examples to help you tap into your gratitude and promote mindful thinking and a thankful nature.
Start a gratitude journal. If you like to write or would like to begin writing, try starting a gratitude journal. Every day, write something you're thankful for you and why. This doesn't always have to be something good that happened to you. For example, if you had a bad day, but learned something new about yourself, you might be thankful for that.
Meditate on your gratitude. Meditation is a great practice that can help calm the mind and manage stress. While there are different forms of mediation, gratitude meditation may help you foster thankfulness in your life. Try saying what you're thankful for as you think deeply about why, focusing only on the present moment.
Express your gratitude. While we say "thanks" a lot, it's not always a true expression of gratitude. Try telling someone special to you why you are glad they are in your lives. Expressing specific reasons why you are grateful for them can help create a stronger community of loved ones around you.
Thankfulness and chronic pain
Being thankful through pain is not easy. You might see other people easily express their gratitude and feel you cannot do the same. That's okay. Remember, mindfulness isn't about perfection or constant happiness, it's about understanding how you think and feel to better know yourself and live in the present. You don't have to be grateful for pain. Instead, try to find other things you are grateful for in life. This could be your family or friends, access to your pain management care, what your body is capable of and more. Overall, the goal of thankfulness and mindfulness is to improve pain symptoms by helping you manage stress and improve wellness.
To sum it up
Thankfulness is an important aspect of mindfulness, and mindfulness is an important aspect of wellness. For chronic pain patients, these practices can work well with good nutrition and behavioral health therapy to care for the non-physical aspects of chronic pain. We know that chronic pain has physical symptoms, but it's just as important to care for the mental and emotional symptoms that come with pain, too. However, if you feel that you cannot control your emotions or they begin to interfere with your everyday life, you should see your doctor.
If you or a loved one are suffering from chronic pain, please call The Pain Management Group at 615.941.8538 for more information.
---
For more information on The Pain Management Group, please visit thepainmanagementgroup.com or schedule an appointment at one of our locations throughout Middle Tennessee.
We are committed to providing holistic, individualized care and vow to treat each patient with compassion and respect, never turning anyone away. Our physicians are fellowship-trained pain specialists who utilize a combination of interventional procedures and medication management services to tailor a personalized care plan for each patient's long-term pain relief.