12 Feb

What is Self-Care?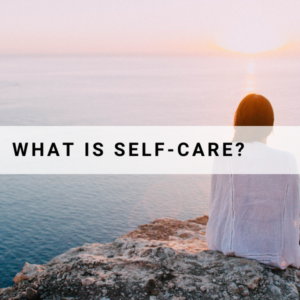 February is the month of love, a time to show we love our friends, family and partners. But, it can also be a month of self-love! You've probably heard of the term "self-care" by now. It's incredibly popular on the internet, with celebrities and influencers promoting the idea. In fact, even Barbie is promoting self-care these days. With all of the information swirling around, though, it can be difficult to know what self-care is and how exactly you should practice it. We're here to help.
WHAT IS SELF-CARE?
What exactly is self-care, though? Merriam-Webster's Dictionary defines self-care as, "care for oneself." Google defines self-care as, "the practice of taking action to preserve or improve one's own health." So, with these definitions, we might create our own definition: caring for oneself through action by improving overall physical, emotional and spiritual wellness.
Why do we need self-care?
We've written before about the huge amounts of stress Americans face and report each year. Stress, overall, is one of the most pressing health issues for many, and for those with chronic pain, it's even more important to understand and control stress levels. Stress can cause everything from headaches, muscle aches or even illness. Because of this, stress and pain symptoms often get worse in reaction to each other. This means to help control chronic pain symptoms, we must control stress. Self-care, by our definition and others, is taking specific actions to reduce stress and increase wellness.
How to cultivate a self-care routine
Now that we have a definition and know its importance, what actions do we need to take to engage in self-care? This was depend a lot of your personal life. Before you create a self-care routine, think about what stresses you out. How can you reduce that stress? What helps you unwind and relax? When do you feel most content? As you think through these questions, start to compile a list of activities that make you think might be a part of your routine. If you're having trouble coming up with ideas, don't worry. Here are a few ideas to get started on a self-care routine that can be used daily or whenever needed.
SLEEP. When you think of self-care, sleep may not be the first thing you think of, but it's incredibly important to have a healthy nighttime routine to ensure proper sleep. Maybe you set a bedtime for yourself and stick to it, or maybe you keep your bedroom electronic free. Any of these can be incorporated into your routine to help you get better sleep, which can reduce stress and pain.
EXERCISE. The physical part of self-care is important for maintaining and improving your health and preventing injuries. The American Heart Association recommends 150 minutes of medium or high intensity exercise per week. It can be difficult to fit this time. Life is busy. You don't have to lift weights for hours, though. Even just walking outside a few minutes a day can help. Scheduling time to exercise is a form of self-care that can help you stick to a work out regimen. Take a look at some of our exercise articles for more tips.
COOKING. It can be easy to just order food most nights. Taking time to cook can seem like a daunting task. After all, you have to plan and grocery shop before you even get to the cooking. But we promise that cooking at home if you're able can pay off. Not only can it be a relaxing task for many people, it can also help you ensure you are eating healthy foods that will promote your physical health. Try some of our recipes to get you started cooking at home.
MEDITATION OR MINDFULNESS. Calming the mind is an important part of controlling stress. Because of this, it may be helpful to incorporate meditation or mindfulness practices into your self-care routine. Maybe you take 5 minutes to meditate at the beginning or end of your day. Or, maybe you engage in mindful eating as a form of physical and mental well being. We have articles dedicated to beginning meditation and mindfulness practices that can help you get started.
These ideas can help get you started as you brainstorm ideas for your own self-care routine. There are many more activities that might be a part of your routine, like journaling, reading, painting or more. One of the greatest things about self-care is how personal it is; you get to decide what helps you manage stress and keep up with your overall health. It's important to remember that self-care is not selfish, but it's also not an excuse to forgo obligations or responsibilities. Instead, it's all about finding a balance in your life and fighting stress. A well thought-out, easy self-care routine can help you limit not only your stress but also chronic pain symptoms.
---

For more information on The Pain Management Group, please visit thepainmanagementgroup.com or schedule an appointment at one of our locations throughout Middle Tennessee.
We are committed to providing individualized care and vow to treat each patient with compassion and respect, never turning anyone away. Our physicians are fellowship-trained pain specialists who utilize a combination of interventional procedures and medication management services to tailor a personalized care plan for each patient's long-term pain relief.